Junior Sport Holiday Programme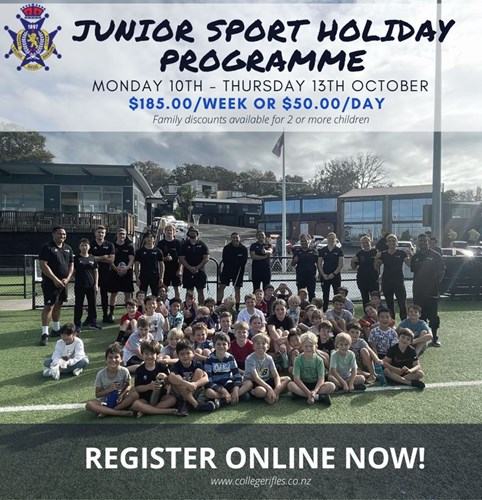 COLLEGE RIFLES HOLIDAY PROGRAMME
Our programme is designed for kids to learn and try different sports, in an encouraging and safe environment. We are all about being ACTIVE!
Date: Monday 10th October – Thursday 13th October (second week of the holidays).
Time: 9:00am until 3:00pm (drop off from 8:30am, pick up before 3:30pm). 
Prices: $185.00/week, $50.00/day. Family discounts available for 2 or more children. ​​​​​​​​​​​​​​
We have 50 spaces available per day for kids aged 5-13 years to be a part of our sports programme.
Sports Available 
Basketball
Rugby
Touch
Boxing
Tennis
Please note the weekly schedule will be released closer to the date.
Register now so you don't miss out on all the fun!
Website link: College Rifles Rugby Football Club - Junior Holiday Program (sporty.co.nz)
Registration link: https://www.sporty.co.nz/viewform/204338