PTA - Colour Run update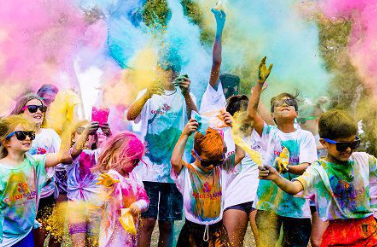 The count down to the first RPS Colour Run has begun, and we can't believe we have already raised $34.8k! The cut-off for donations is Monday 31st October, so please keep fundraising!
Thank you to all those that have volunteered for this event, we appreciate you all giving up the time. You should have received an email confirmation regarding your roster. Please contact the PTA (email below) asap if you have not received this. 
Below is some important information for tomorrow's event 
If your child has registered and has at least $5 fundraised, they will receive a RPS Colour Run T-shirt tomorrow in their class and will get changed before the bell rings at 3pm.  
What to bring to school tomorrow:
-sunglasses/swimming googles to wear (there will be a limited number of sunglasses available to purchase)
- Remember to bring an old pair of shorts to wear for the colour run! We've been advised the powder doesn't stain but it's best to wear old shorts. We encourage the students to wear bare feet as well!
-a towel for the ride home
- cash for food and drinks
- a water gun for the water fight at the end of the event
- 😊
Siblings / adult signups
Siblings of RPS students and parents/family can join the colour run. Please go to the registration tent on arrival (will be open between 2.30pm – 3.30pm). We have a limited number of RPS colour run t-shirts available, these will be given out on a first come first served basis, so we suggest you wear an old white/pale colour t-shirt just in case. The cost is a minimum donation of $5 and you will be given a wristband for entry into a race. Younger siblings will run with the Y0/Y1 students, older siblings and adults will have their own race at the end. 
Schedule of the day (these times are approximate):
| | |
| --- | --- |
| 3.05pm | Welcome by the MC |
| 3.10pm  | Year 2 Race |
| 3.20pm | Year 0/1 Race |
| 3.30pm | Year 3 Race |
| 3.40pm | Year 4 Race |
| 3.50pm | Year 5 Race |
| 4:00pm | Year 6 Race |
| 4.15pm | Older siblings /teachers race |
| 4.30pm | Colour Burst and Water Spray |
Students that are participating in the colour run will be brought to the school fields by their class teacher. Please wait around the school fields for your child, and remember, you do need to attend to supervise your child.
One more sleep! See you all tomorrow afternoon!
The Colour Run team