2022 Tournament of Minds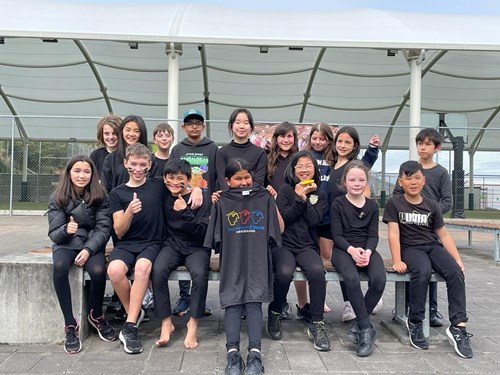 Fantastic Performances by our Teams at the 2022 Tournament of Minds
On Saturday, 3 September, two teams of Year 6 students represented our school at the Tournament of Minds Regional Competition at Mission Heights Junior College in South Auckland. The Tournament of Minds is a competition involving problem-solving, drama, cooperation and creativity. Students, in teams of seven, are given a range of challenges to meet and are allowed only minimal assistance from teachers. Our teams – Hypertalent and Supergroove spent six weeks preparing for the day. They had bucketloads of fun and impressed the judges with their 10-minute dramatic performances to gain second placings in The Arts and Language/Literature divisions.
Congratulations: Dominic Manners, Andre Molon-Noblot, Ashlee Spychala, Zahra Soma, Rafferty Seales, Ashley Chan, Amber Suhren, Jovan Karval, Sawyer McLachlan, Staci Churakova, Thomas Tsang, Alison Lam, Alexa Nathan, Mila Doker, Isaiah Ilo and Lisa Li.
Thanks to all the parents who came along to support the teams on the day.