New PTA Fundraising Project - A Canopy for the Courts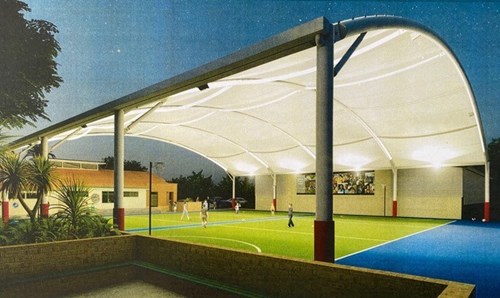 Now that PTA activities and events are returning as Covid restrictions ease, we felt it was time to refocus the PTA fundraising efforts on to a single big project. 
So, we've decided to fundraise towards installing a large canopy cover for the junior courts. You can see an artist's impression of what this could look like in the images. 
It would provide sun and weather protection for our kids while using the courts for learning and recreation activities for all year groups within the school, and make this area a year-round useable space for a range of school activities as well as after school events and activities. 
There is the option to also install lighting and a sound system, at an additional cost, to open up even more uses for the space.
We know this is going to take a lot of effort, and a fair bit of time to achieve, but we are really excited to be working towards something so significant for the school and all our children. We will keep you updated regularly on our progress and how much each of our fundraisers contributes to our end goal. 
It's a big goal, so let's all get behind it and help through donating, taking part in school fundraisers and events, and volunteering to help with PTA activities! 
If you want to help in anyway - make a donation, organise a fundraiser, or volunteer your time - please email rps_pta@outlook.co.nz
With everyone's help we can get there as quickly as possible!