PTA - Colour Run - Online Sponsored Fundraiser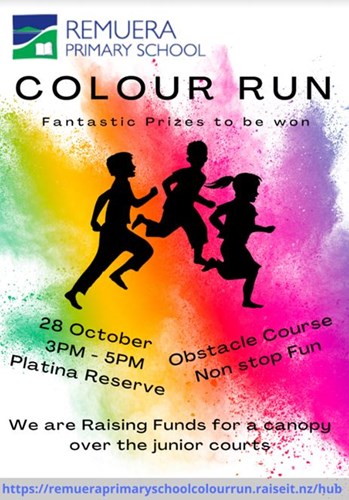 After a few challenging years, RPS PTA are running our first major event for 2022. The RPS Colour Run event is being held on Friday 28th October. The event will start at 3pm on the field (Platina Reserve) at the back of school. The event will last approx. 2 hours, and there will be food and drink stalls. The students will run up to 3 laps of the school sports fields, completing an obstacle course and being showered with coloured powder.
What are we fundraising for?
Remuera Primary School is running an online sponsored colour run fundraiser to assist us in raising funds for an amazing new addition to our school.  We aim to install a large all-weather canopy cover for the junior courts. (Please see more information in today's newsletter)  The colour run will be our first big fundraiser towards our new canopy.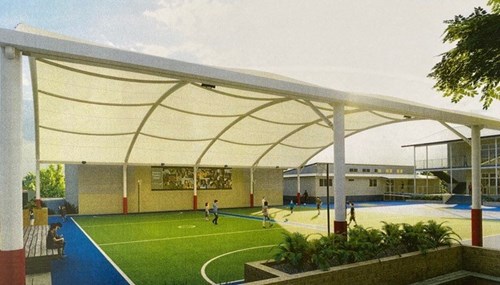 How do I sign my child up to fundraise online?
Each child can sign up for their very own fundraising web page to send out to collect online sponsorship. Sponsorship can be collected from anyone, anywhere and sponsors can choose their own currency to donate in, if they wish. Just go to our School Fundraising Hub page at:
https://remueraprimaryschoolcolourrun.raiseit.nz/hub
You will find the register/sign up link to set up their fundraising page
You will need to choose your child's class as their fundraising team and the enter your account/page details
If you need any help email help@raiseitfundraising.com for direct assistance
All student totals update in real time and your sponsors can leave you messages of encouragement
The student page link is shown and able to be shared via email etc. 
Please note, on the payment page there is an optional tickbox to add 10% of your donation to help cover processing costs. Please UNTICK this box as this is not part of the RPS fundraising (please let friends and family know this too). 
Prizes
We have a great range of fundraising prizes available including spot prizes and overall fundraising prizes for classes/individuals, that will be run throughout the fundraising period -before the day and on the event day. Please see the Prizes page linked on the Fundraising Hub page of our fundraising website.
Health & Safety
All measures will be taken to ensure that this event is safe for all students. The colour powder is made from 98% corn starch and 2% food colouring, making it non-toxic, biodegradable and gluten-free. The powder will be aimed at the torso down.  However, wind may cause the powder to protrude onto your child's face or hair, so we do recommend that sunglasses or googles are worn. 
We are looking for corporate sponsorship for the colour run!  
Do you know of a company that would like the naming rights and to sponsor this event?  The sponsorship would cover the cost of the coloured powder and white t-shirts for the event, which can be branded with your company logo, as well as your logo on all communications and the sponsorship website.
We are aiming for a zero-cost event, so that all the money the children raise can go towards the new canopy. We also have a range of smaller sponsorship options available, so please reach out to our team on rps_pta@outlook.co.nz if you have any questions or to discuss this further opportunity. Thank you to those generous sponsors who have already reached out to support!
More information will follow closer to the date.
Get ready for the brightest day at school! Thank you again for your support and happy fundraising!
RPS PTA
Any queries – please email rps_pta@outlook.co.nz